It's not easy to talk about money – especially with kids. A recent TD Bank study found that 25% of Canadian parents don't regularly talk about money with their children, and 63% actually avoid this topic because they believe their child is too young. As a mortgage broker and trusted adviser, you can help your clients feel confident when discussing money with their kids. 
Here are a few simple tips you can share with clients to help them spark money conversations with their children to teach them the importance of being more responsible with their cash.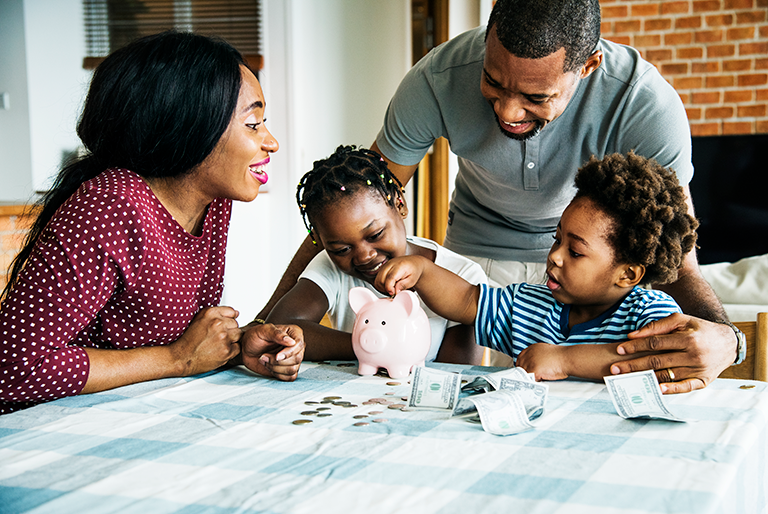 1. Start early
Family finance expert Robin Taub recommends that parents start talking to their kids about money as early as their preschool years. Encourage your young ones by starting with simple goals when it comes to money. Parents can talk about saving for a new toy, what it costs to purchase an ice cream cone, or add up the price of items in their grocery cart. Parents can play counting games with loonies and toonies to teach children about currency and even allow them to pay for small purchases with cash. Once children are old enough to understand basic money concepts, parents can also get them involved in budgeting for the family – like how they can help save for their next Disney vacation – and encourage healthy financial habits from a young age. 
2. Create a budget together
Encourage parents to explain simple terms like spending and saving with their kids, and how they pay for their family's everyday expenses. When creating a family budget, parents should go over the difference between fixed expenses, discretionary spending, and the importance of setting aside money for unexpected costs, like if the family car breaks down or someone gets sick. It's also a good time to go through each family members' calendars to prepare for any upcoming events that would require additional spending, such as birthdays. In addition, creating a budget together is a great opportunity to teach kids and teens about what it costs to run a household. Don't be afraid to bring up items like mortgage payments, rent, insurance, and utilities. 
3. Get hands-on 
Family meal planning is a great way to teach kids how to budget and reduce expenses at the same time. Putting together a weekly or bi-weekly shopping list built around meal planning can cut the costs of feeding a family, reduce the likelihood of impulse purchases and food waste,  take advantage of sales and coupons plus ultimately lower the risk of facing an unexpectedly high bill at the checkout. Regular meal planning also helps to prevent last-minute takeout or delivery expenses, which can add up quickly.
4. Pay an allowance
As part of your budget conversations, parents should consider teaching kids to manage their own money with an allowance. Whether they decide to pay a set dollar amount or make them earn money by tying the allowance to their chores, it's the best way for parents to help kids learn about saving, spending, and earning money. Parents should encourage kids to set up a simple budget and track what they spend. For teens with a smartphone, a free app like Wally or EveryDollar can assist with this task.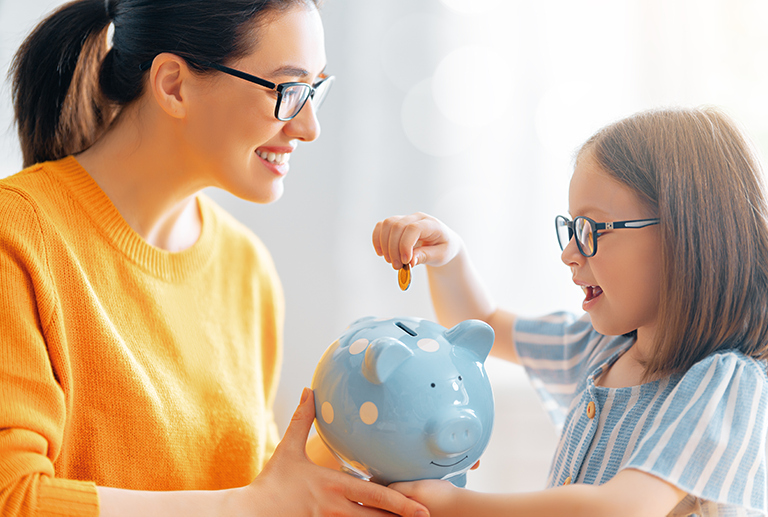 5. Instill a habit of saving
Parents should teach kids the importance of saving their money and show them how, using either a piggy bank or a bank account. They should regularly monitor how much has been saved and talk to kids about setting goals for how they may want to spend this money. It's best to start small by teaching kids to save for short-term goals, like buying a new toy or game. Saving is an essential money habit to instill at a young age. It teaches goal-setting, planning, discipline and delayed gratification – all valuable life lessons.
As children grow older, these money management lessons will hopefully stick. With young adults experiencing a housing affordability crisis and many Canadians holding a large amount of credit card debt, these skills will be invaluable to put kids on the path to financial success. 
Even with careful planning, unexpected and uncontrollable events can lead to financial challenges. When this happens, there are often solutions you can turn to. At CMI, we can help you get your clients out of a tough financial spot with a flexible, customized private mortgage solution. 
In these cases, it's important to have healthy habits to fall back on to avoid going back into debt. That's why it's important to instill financial literacy early on. You can help guide your clients in that direction starting with a family budget, and teaching their family how money moves in the household.
Next steps
Submit your deals for review in under two minutes. We can get you approved within the hour and financed fast. Contact your Brokerage Relationship Manager today or fill out the form below to get started.