Toronto, September 28, 2020 – Canadian Mortgages Inc. ("CMI"), one of Canada's leading non-bank private mortgage lenders, announced today it placed 173rd on the 2020 Report on Business ranking of Canada's Top Growing Companies, as published by The Globe and Mail. CMI specializes in providing high-quality mortgage financing solutions for borrowers along with a broad array of investment opportunities for investors.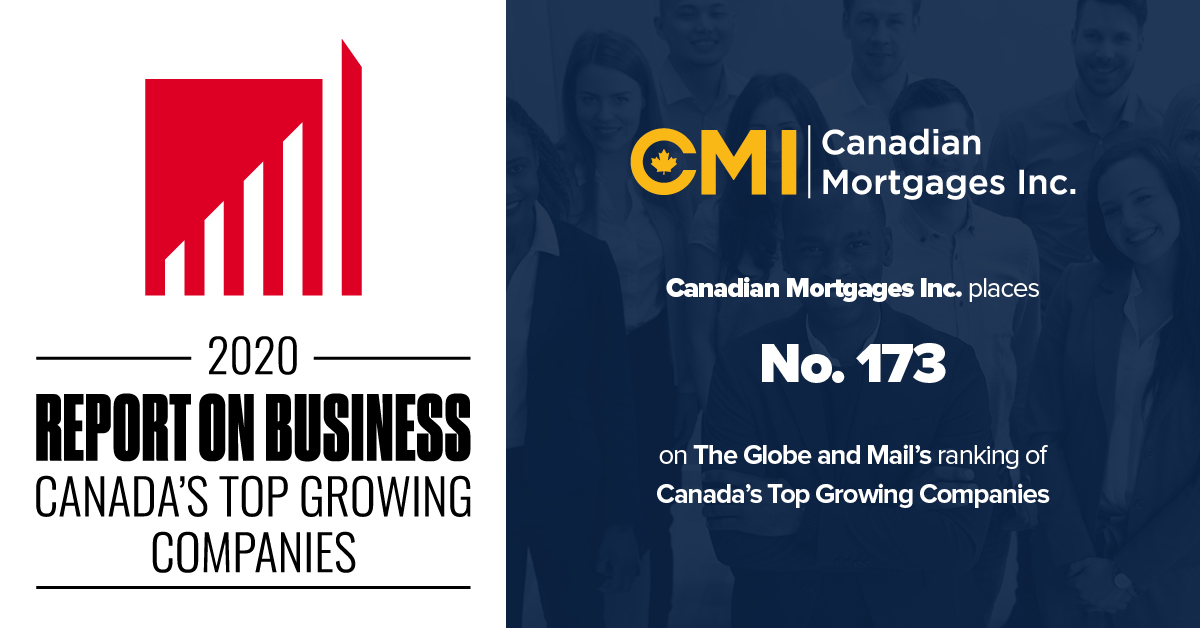 Canada's Top Growing Companies ranks Canadian companies on their three-year revenue growth. Canadian Mortgages Inc. earned its spot with an impressive three-year growth rate of 255%. As a leader in the private lending market since 2005, CMI has established a reputation for transparency, professionalism and always treating its customers and partners with the utmost care and respect. Fuelled by innovation, CMI strives to provide borrowers with access to non-bank private mortgage funds and investors with alternative investment opportunities that are backed by real estate. 
"We are thrilled to be ranked among Canada's Top Growing Companies", said Bryan Jaskolka, founder and COO of CMI. "Our continued growth is a strong testament to our commitment to lead and disrupt the private lending space through innovation, cutting-edge product offerings and superior service for Mortgage Brokers, Investment Advisors and Investors. Having successfully funded in excess of $500 million in private mortgages across Canada, we are proud to be one of the country's fastest-growing alternative lending firms."
Launched in 2019, Canada's Top Growing Companies editorial ranking aims to celebrate entrepreneurial achievement in Canada by identifying and amplifying the success of growth-minded, independent businesses in Canada. This is a voluntary program; companies had to complete an in-depth application process in order to qualify. In total, 400 companies earned a spot on this year's list.
The full list of 2020 winners and their accompanying editorial coverage is published in the October issue of Report on Business magazine—out now—and online at tgam.ca/TopGrowing. 
"The stories of Canada's Top Growing Companies are worth telling at any time, but are especially relevant in the wake of COVID-19 pandemic," says James Cowan, Editor of Report on Business magazine. "As businesses work to rebuild the economy, their resilience and innovation make for essential reading."
"Any business leader seeking inspiration should look no further than the 400 businesses on this year's Report on Business ranking of Canada's Top Growing Companies," says Phillip Crawley, Publisher and CEO of The Globe and Mail. "Their growth helps to make Canada a better place, and we are proud to bring their stories to our readers."
About The Globe and Mail
The Globe and Mail is Canada's foremost news media company, leading the national discussion and causing policy change through brave and independent journalism since 1844. With award-winning coverage of business, politics and national affairs, The Globe and Mail newspaper reaches 5.9 million readers every week in print or digital formats, and Report on Business magazine reaches 2.1 million readers in print and digital every issue. The Globe and Mail's investment in innovative data science means that as the world continues to change, so does The Globe. The Globe and Mail is owned by Woodbridge, the investment arm of the Thomson family.
About CMI
Founded in 2005, The CMI Group of Companies is an award-winning leader in the alternative lending space. It is a fully integrated enterprise comprised of CMI, CMI Private Mortgages, CMI MIC, and CMI Mortgage Services. These lines of business work in unison to originate, underwrite, and service mortgages, creating seamless mortgage solutions for both borrowers and investors. Our common mission is to reshape and grow the private lending market by delivering innovative products and exceptional service.
Find out more about CMI at http://www.thecmigroup.ca/